Pricing & Information
All our cakes are bespoke and prices reflect the size, flavours and intricacy of design. The following starting prices are intended only as a guide.
We only take on a limited number of commissions each week. if you have your wedding date set and are interested in booking Fays cakes please do not hesitate to contact us.
A deposit of £100 will secure the services of Fays cakes for your special day. The final design of your cake can be agreed through consultation at a later date.
Pricing guide 2017/18
One tier from £115
Two tiers from £210
Three tiers from £305
Four tiers from £400
Five tiers from £495
Sugar flowers from £25, sugar flower toppers from £65.
Bespoke Bride and Groom toppers from £105, only available with a cake order.
Kitchen cutting cakes are available from £55 if required and are only available with a cake order.
Prices are based on vanilla sponge filled with jam and buttercream, covered in white/ivory sugarpaste and matching ribbon.
PAYMENT TERMS AND CONDITIONS
A £100 non-refundable & non-transferable deposit is required to secure your date. The remaining balance is payable 6 weeks prior to delivery/collection of your cake. Please contact us for further details.

Delivery & set up of your wedding cake
Delivery and set up from £30 depending on the location of your wedding venue. Please contact us for a quote.
Cupcakes are available starting from £3.00 each with a minimum order of nine.

Cupcake stand hire from £20 with a £100 refundable deposit when stand is safely returned.
A selection of ceramic and glass stands are available for hire, please contact us for further details. Stand hire is only available with a cake order.

All of our cakes are made using only the finest quality ingredients. There are a wide variety of cake flavours and fillings available. Below is a list of our most popular flavour combinations.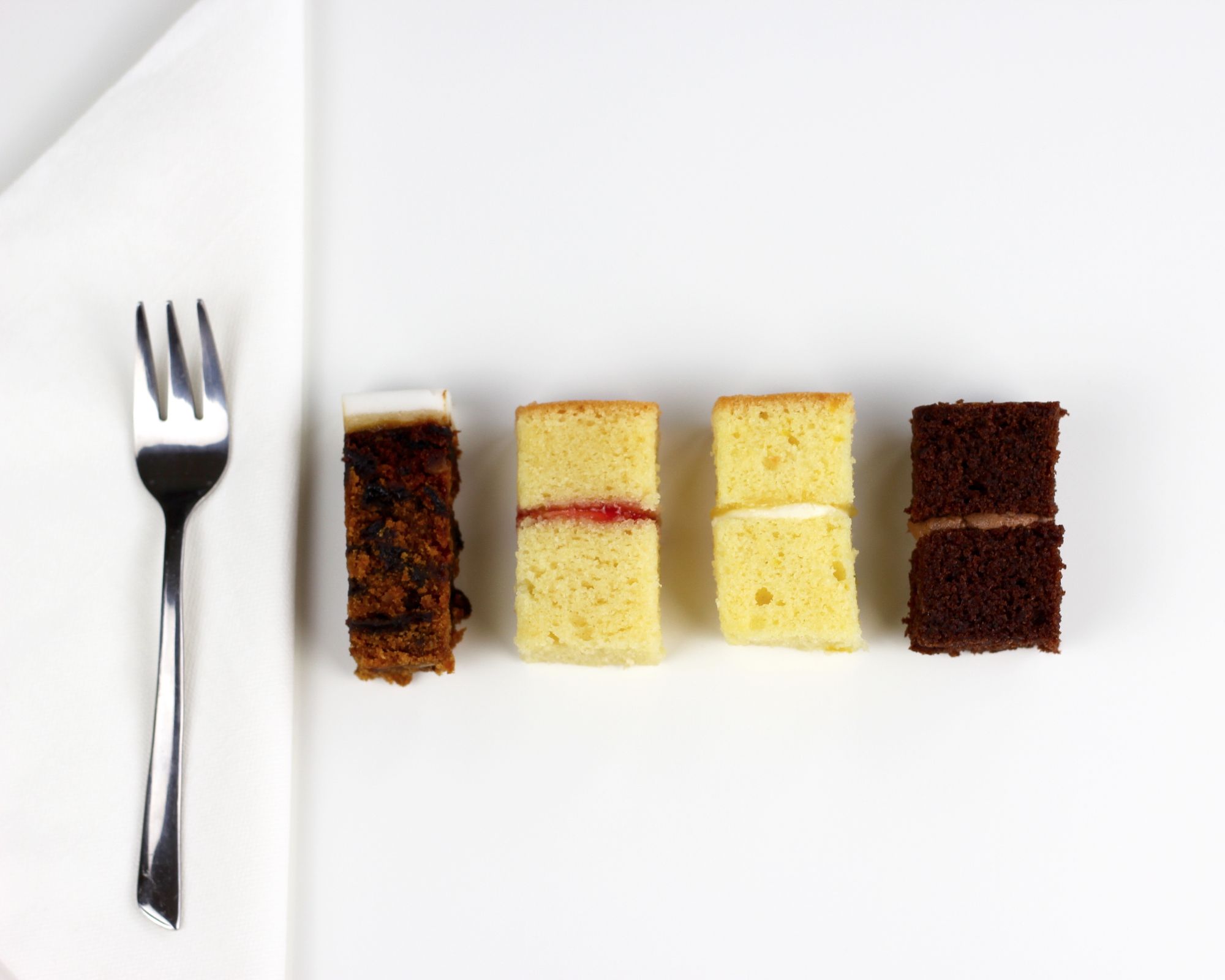 Please note that all our cakes contain dairy products and are made in a kitchen where nuts are used.
Vanilla sponge filled with strawberry or raspberry jam & vanilla buttercream
Lemon sponge filled with lemon curd & lemon buttercream

Light chocolate cake filled with chocolate buttercream or salted caramel buttercream

Orange zest sponge filled with orange curd & orange zest buttercream

* Fruit cake covered in Apricot Jam and covered in almond marzipan

* Rich chocolate cake filled with chocolate buttercream

* Red velvet filled with buttercream

* Coconut & lime filled with creamy coconut & lime buttercream

* Carrot cake filled with orange buttercream