The process to designing your dream wedding cake
Step 1 securing your wedding date
As soon as you have booked your venue, it is best to get in touch to check my availability, my diary is open for 2020/21/22 in particular, my diary fills up very quickly between May and September.
It is myself who designs, bakes and decorates all the cakes here at Fay's cakes, I offer a personal service to each of my couples, taking on a limited number of commissions each month.
Sometimes I can take on commissions at shorter notice, please don't hesitate to get in touch.
If your date is available we will discuss your cake style and details via email, this will enable me to give you an initial price guide.
You can then secure your booking with a £100 'save the date' deposit, this means you are firmly booked in our diary and you can carry on with the rest of your wedding planning.

Step 2 Design & tasting consultation
Once your date is secured I will invite you for a complimentary design and tasting consultation for two closer to your wedding date, once you have picked your colours, flowers etc.
Don't worry if you can't make it along for a consultation as the design process can all be done via emails as I often work with couples that live outside the UK.
Consultations are a great opportunity for us to meet and discuss your wedding plans in more detail, please feel free to bring along any photos, stationary or colour swatches which you would like to use as inspiration for your cake.
We will also have a selection of our most popular flavours from my menu for you to try.
After your consultation, I will prepare a final proposal detailing your quotation, drawings, cake flavours, delivery details, stand hire and any other requirements via email.
*PLEASE NOTE* I do not offer a design and tasting consultations for semi-naked or naked cakes. I do however offer a complimentary tasting box once your booking fee has been paid.

Step 3 Final payment & delivery
Six weeks before your wedding date I will be in touch to confirm your chosen wedding cake design and flavours. This is when your remaining balance is also due.
When you order your wedding cake from Fay's cakes, we will liaise directly with your wedding venue to arrange a suitable delivery and setup time of your wedding a cake on the morning of your wedding, all you need to do is sit back, relax and enjoy your wedding day.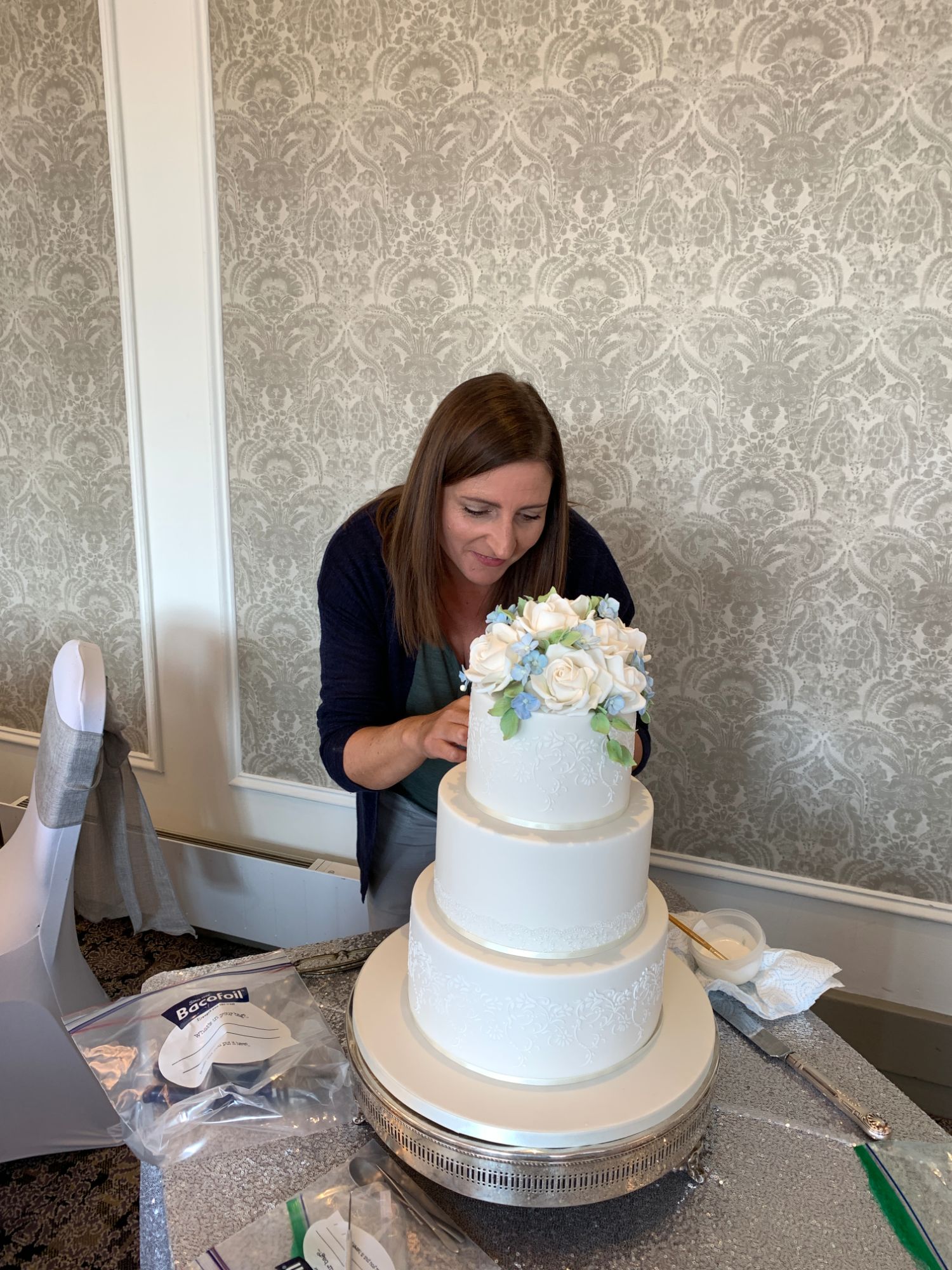 IF YOU WOULD PREFER TO HAVE A CONSULTATION & TASTE MY CAKES BEFORE SECURING YOUR DATE WITH ME
We can arrange to meet at one of my consultations/tasting days for a fee of £20. (Payable at time of booking your appointment)
Should you then go ahead and book your wedding cake with me £20 will be deducted from your final balance.
Alternatively, if you are unable to attend one of my consultation days, you can order a Wedding Cake Sample Box instead for £20 plus £4.95 p&p. Samples boxes can also be collected.
*PLEASE NOTE* I do not offer a design and tasting consultations for semi-naked or naked cakes. I do however offer a complimentary tasting box once your booking fee has been paid.
*No booking is secure until a £100 non-refundable booking fee has been paid*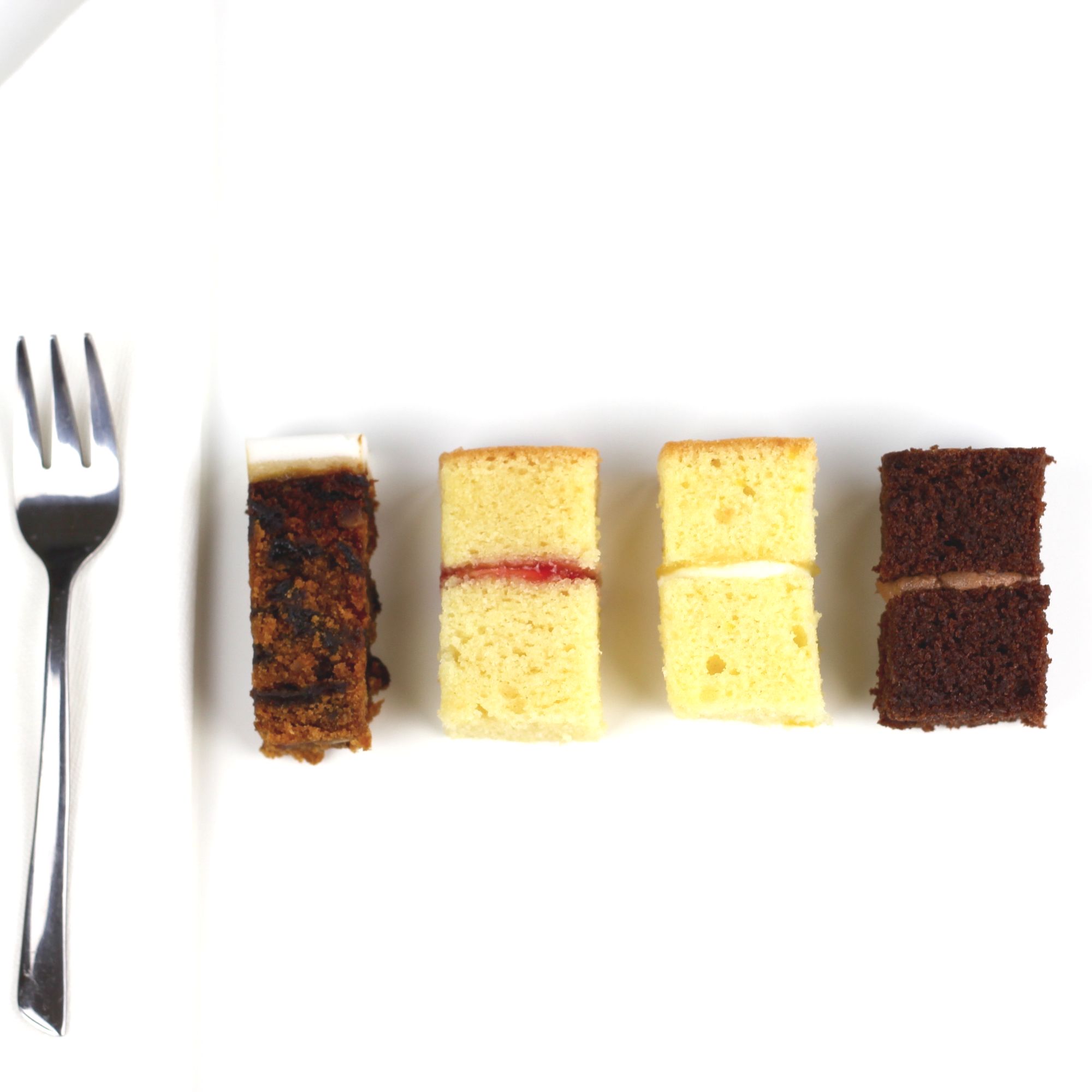 Every wedding cake is designed and created to a bespoke standard and therefore our prices vary depending on the complexity of the design. The following price guide is an average price for a simply decorated cake. Final prices will be dependent on size, flavours and any further decorations such as sugar flowers, stencilling, lace/piping work, edible sequins/glitter, and edible leaf.
1 tier from £170, Feeds Approx. 40
2 tiers from £265, 60
3 tiers from £360, 100
4 tiers from £455, 180
5 tiers from £550, 200
3 tier naked cake starts from £295, 100
Kitchen cutting cakes from £85 (Only available with an order)
Sugar flowers from £10 - £££ (only available with an order)
Wedding cupcakes from £3 (increments of 12)
Wedding Cookies from £3 (increments of 12)
Prices above are based on our most popular flavours, Vanilla, Light chocolate & lemon sponges.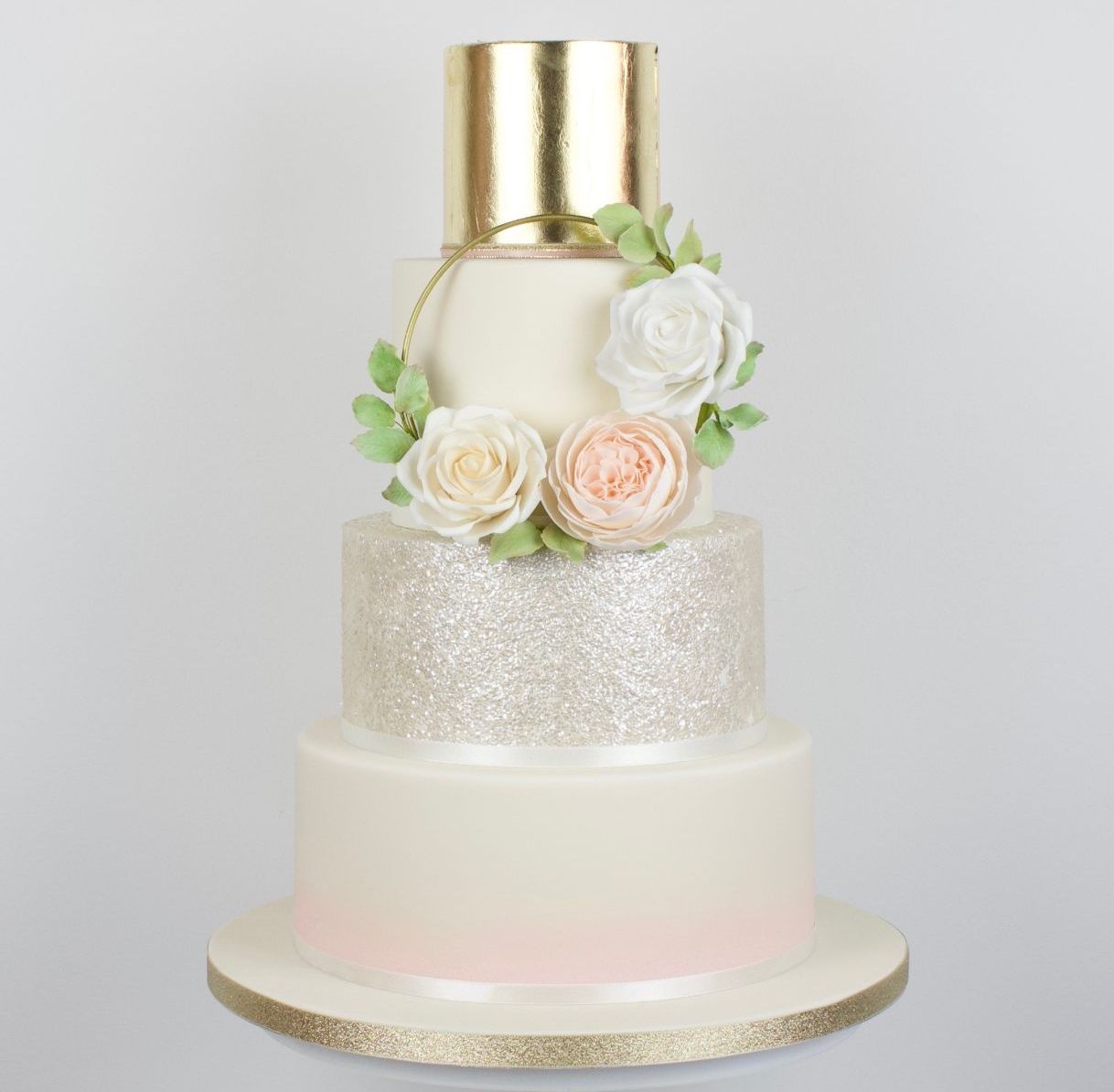 Vanilla sponge filled with strawberry or raspberry jam & vanilla buttercream
Lemon sponge filled with lemon curd & lemon buttercream
Light chocolate cake filled with chocolate buttercream
other fillings for the light chocolate cake *salted caramel & buttercream, *Chocolate hazelnut & buttercream
*Caramel sponge filled with a layer of caramel & vanilla buttercream
Orange zest sponge filled with orange buttercream
*Chocolate orange filled with orange buttercream
*Vanilla sponge filled with mango & passion fruit buttercream*
*Fruit cake covered in Apricot Jam and covered in almond marzipan
*Rich chocolate cake filled with chocolate buttercream
*Red velvet filled with buttercream
*Coconut & lime filled with creamy coconut & lime buttercream
*Carrot cake filled with vanilla buttercream
*Sticky toffee filled with caramel sauce and caramel buttercream
*= Additional charge
FOLLOW US ON INSTAGRAM TO SEE WHAT WE HAVE BEEN UP TO